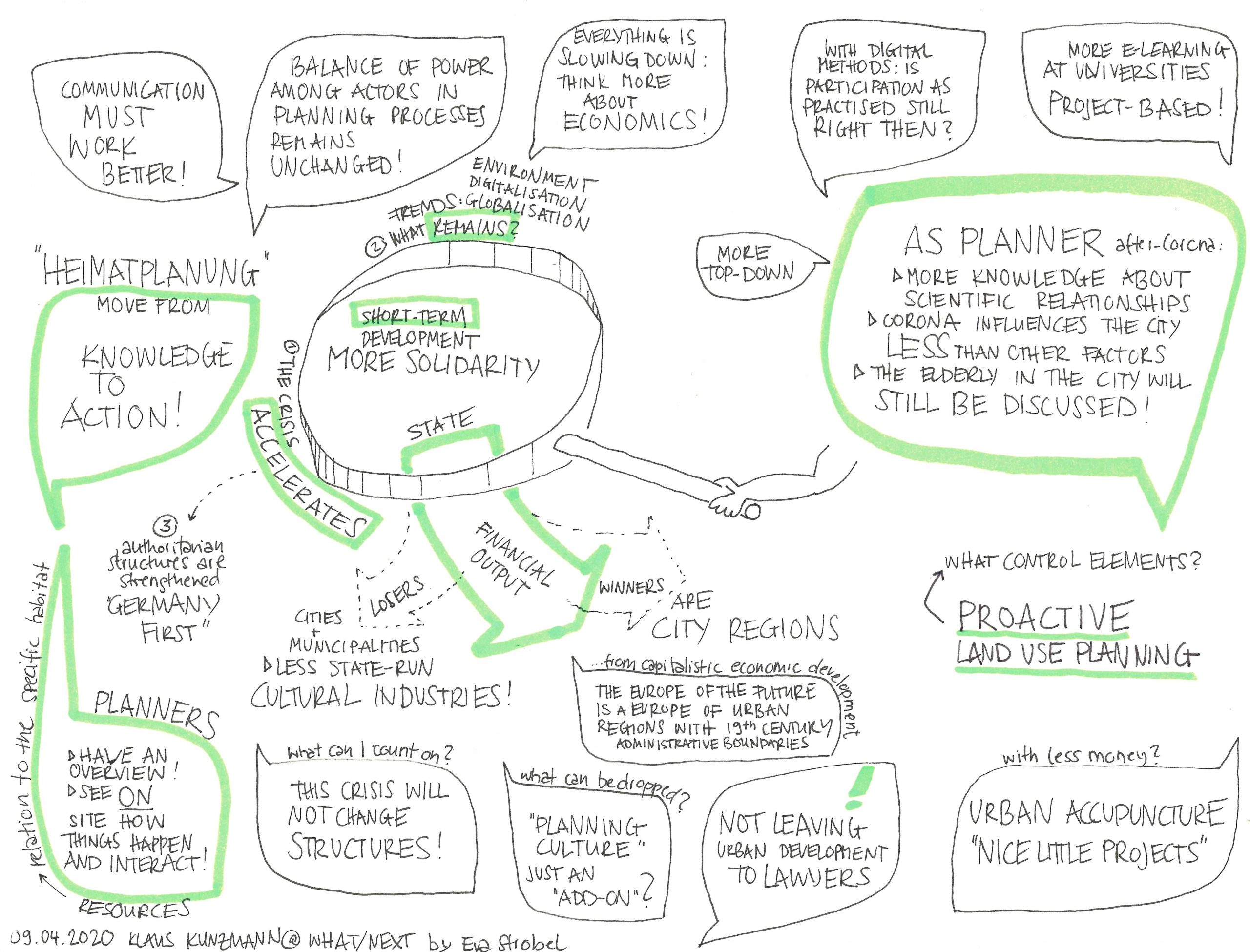 Published May 11th, 2020
There Will Be No Major Changes
Es wird sich nicht viel verändern
Transcript in English: Klaus Kunzmann,
April 9 2020
Approaching the nature of this change, What/Next speaks in one of the first sessions to Klaus R. Kunzmann, spatial planner. He shares his thoughts on the current crisis with the planning world and particularly addresses the next generations of researchers and practitioners.
Um uns der Frage nach der Art des Wandels zu nähern, sprach What/Next in einer der ersten Sitzungen mit Klaus R. Kunzmann, Raumplaner. Er teilt seine Gedanken über die aktuelle Krise mit der Planungswelt und wendet sich insbesondere an die nächste Generation von Forscher*innen und Praktiker*innen.
Klaus R. Kunzmann, which changes do you observe and expect in the coming time – triggered off by the global spread of the Corona virus?
I expect no major changes. What will be different? The Corona crisis will slow down physical globalization and accelerate digital globalization. Digital social networks will dominate social communication even more. Supply chains will become more regional. Online-learning will see winners and losers. The state will regain importance and the market economy will become more social. The principle of subsidiarity will win new friends. All this is certainly good news for planners and designers.
After the epidemic has come to an end, all the spatial transformation that globalization, digitization and environmental concerns bring along will continue to take place, albeit at different speeds. Parts of the public sector – health care, police, military – will experience an unexpected increase in importance. After the crisis, like many other countries, Germany will pursue an economic policy under the label Germany First with all the consequences this has for local and regional economies.
What are the implications of the epidemic on our neighborhoods, cities and regions?
Most of the changes, i.e. strengthening the health care system, strengthening the police and military, digitalization of education, will only marginally impact urban or regional development.
I don't expect any changes, except those measures that are currently being pursued and followed anyway for good – or bad – reasons. The enormous media attention of the crisis will gradually decrease and the public sector will soon switch back to normal. Though afterwards the corona crisis will certainly be used or abused by many actors to push through individual interests. This will result in new priorities in public budgets, in hospitals and old people's homes, in the education sector and of course in local economic policy. The solidarity, so often conjured up during the crisis, will soon be history, because previous behaviour patterns – i.e. individualisation of society – will return.
The next generation of planners needs more courage in raising their voices in the public media, eventually even taking political responsibility in cities and municipalities for a time period, not leaving urban development to lawyers, real estate agents and career politicians.

Klaus R. Kunzmann 04/2020
Do you expect spatially more differentiated developments?
Those cities and regions will emerge stronger from the crisis that were already economically successful in the field of digitization and health care, both in terms of production and services. Other developments will receive even more tailwind and political support, such as consumption and production of organic products, digitization of education and public services, e-shopping, e-culture and so on.
Social and economic disparities will continue to increase at all levels. The Corona crisis will not stop developments, but rather intensify them. The spatial disparities between urban and rural areas – beyond urban regions though also within urban regions – will continue to increase. Due to their better job options and the equipment with health care facilities and better access to digital services, urban regions will experience a further influx of people. Experience tells that foreign migrants will prefer to settle down in urban environments. Dreams of digital decentralisation after the crisis will not come true. Respective hopes will not be fulfilled.
How should urban and spatial planners deal with the current development? What skills do next generation planners need?
Planners have to be trained to pay attention to social, economic and political priorities that are being set in response to the crisis, priorities, which will then may have an impact on urban development and consequently on urban planning. As in the past, planners should respond to the needs of the citizens, maybe with a little less populist participatory culture. But they should not hope that capitalism and market economy ideologies will be given up, once the public sector has regained power.
It is becoming even more important to learn how to use digital technologies in order to communicate on equal terms with the drivers of the digital economy. Planners must better learn how to search and find and select information, and above all how to differentiate between essential and useless or even fake information carefully. Otherwise they will drown in the tsunami of big data. Planners should learn what they did not learn in the past… but they should particularly know more about the economy, Most architects do not know much about the local economy. They also have to accept that architecture is only a very small segment of spatial development and urban planning.
What other thoughts would you like to share?
In the wake of the Corona crisis, authoritarian tendencies will continue to increase in Europe, and Germany will follow. The public sector – at all planning and decision-making tiers – will regain importance. The nation state within its cultural borders will be strengthened even more, but the EU will lose trust. The EU Commission had little power and creative ideas how to overcome the crisis.
While the national level is distributing a considerable amount of money to safeguard national and European economies from ruin, cities and municipalities will suffer from the decline of tax revenues. This may very much curb their future ability to act and determine future urban development priorities. Especially the non-digitized and digitizeable culture will suffer from the consequences of the crisis. Understandingly, after the crisis, the public sector will aim to get the economy back on its feet. The cultural sector will be the victim. Producers, actors, musicians and artists will be forced to raise their digital competence.
Many start-ups that are not geared to digitized services are among the losers of the crisis, public programs to support start-ups will be scaled back for quite some time, unless they are targeting health and surveillance services. University presidents will give more importance to e-learning methods because they have seen that this is accepted by educators and students. Though one consequence will be that, with the exception of the information and health sciences, fewer positions will be made available for research assistants. US digital companies that offer the software for this will benefit, as will international elite universities that sell expensive e-learning master degrees.
The environment will not benefit from the crisis, as the economy will be recovered first once again. The chance to shift the economy to sustainable development will only be taken in a few sectors. The willingness to switch from cars to public transport is only taken up by a few people. They have learnt that they will be safer in their own car.
China will be the winner of the crisis because it can and will sell itself as a model for successful state action. The country has shown that it can provide medical equipment faster and cheaper. China has offered financial aid to developing countries. The help is gladly accepted by states in Africa, Latin America, and Southeast Europe and even by Italy. Not to forget, China will sell its surveillance digital technologies worldwide.
––
Prof. Dr. Klaus R. Kunzmann, spatial planner, has taught from 1973 to 2006 at the Faculty of Planning of the Technical University of Dortmund, and as visiting professor at universities in the US, France, Italy, Taiwan and the People's Republic of China. He holds an honorary PhD from the University of Newcastle/UK. He has been frequently invited as key-note speaker at international conferences in Europe and Asia, and published widely in German, English, French, Italian and Chinese. In 1987 he has established the Association of European Schools of Planning (AESOP) and served as its founding president.