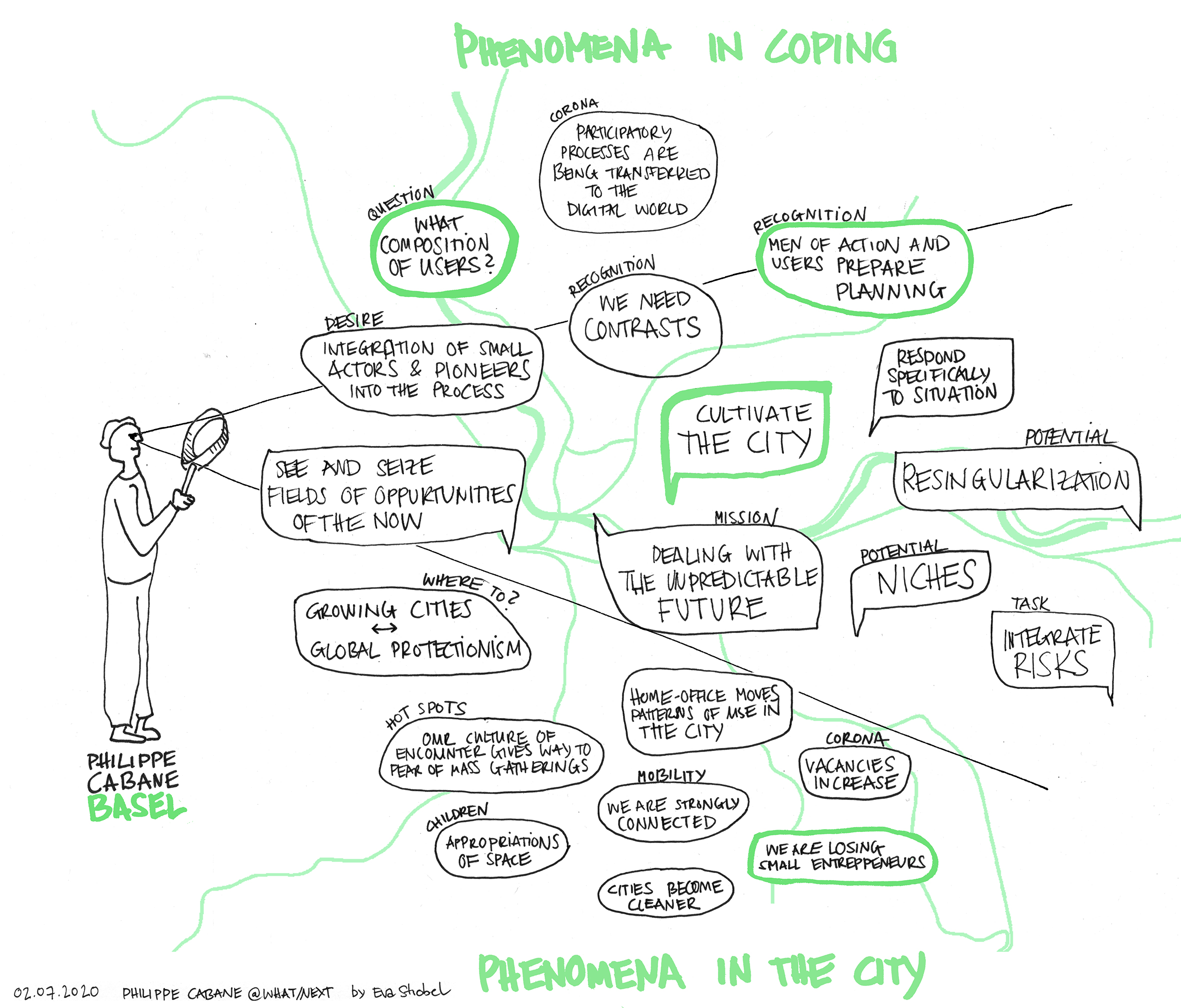 Published November 25th, 2020
Planning Means to Prepare the Present For the Future
Planung heisst, die Gegenwart
zukunftsfähig zu machen
Podcast in German: Philippe Cabane, July 2nd 2020
We know now: Google and Amazon are the big winners in the pandemic. At the same time, vacancy rates in the cities continue to unfold. The intergenerational contract is in danger of being desocialized, and the culture of physical encounter in our cities comes close to a standstill. What/Next spoke to Philippe Cabane, urban sociologist based in Basel, Switzerland, reflecting on those developments and drawing opportunities from it.
Jetzt wissen wir: Google und Amazon sind die großen Gewinner in Zeiten der Pandemie. Gleichzeitig entfaltet sich der Leerstand in the Stadtzentren weiter. Der Generationenvertrag läuft Gefahr, entsozialisiert zu werden und die Begegnungskultur in unseren Städten ist weitgehend stillgelegt. What/Next reflektiert diese Entwicklungen mit Philippe Cabane, Stadtsoziologe in Basel, und zeigt Möglichkeiten darin auf.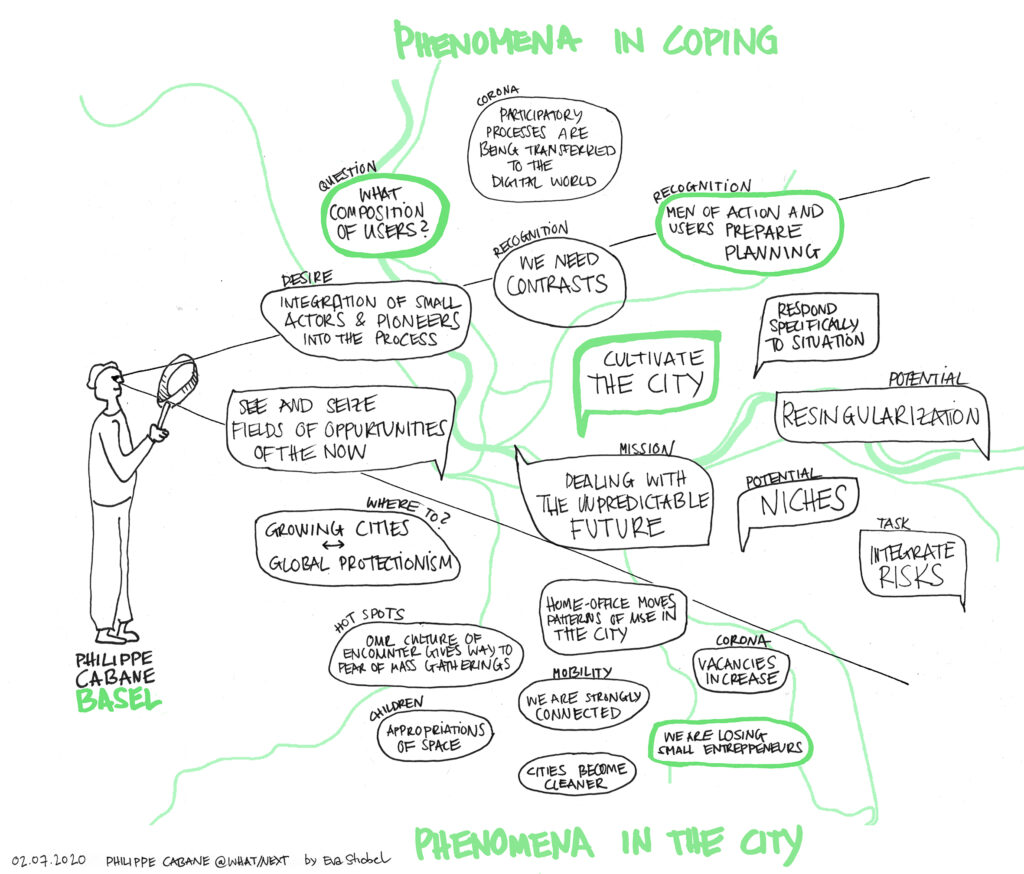 Previously existing development paths -global and in the cities- are turned upside down by the pandmic. The elderly are particularly vulnerable to the virus. Thus the discussions around political decisions sometimes drift into the Social Darwinist discourse, and this observation unsettles us. Economic consequences and impacts are already dramatic, especially for the small entrepreneurs. You can see it on the street: sometimes temporarily, but also long-term vacant stores characterize our street scenes. And: in urban planning, we understand the culture of physical encounter, both private and public, as a very important characteristic of urban society. Encounter culture and their meeting places – hot spots – shape our cityscape and represent a fundamental factor in urban development. The increasing fear of mass gatherings and the rules of distance now put this culture to a halt. As planners, however, we firmly believe in this culture and its actors.
We must stop working with ideologically shaped visions for our cities!

Philippe Cabane 07/2020

Contrasts are important for our cities. Especially if we understand development as an adaptation process and want to include this hypothesis in the planning process. There are (inner) cities where contrasts are becoming smaller and smaller. However, large cities live on contrasts, complexity and create a harsh climate. They are constantly pulsating and generating new fields of opportunity – not so many Swiss and German cities. They are becoming quieter, cleaner, more socially hygienic. They are becoming "mediocre", too beautiful, almost boring – they are planned with ideological visions. Unpleasant uses, risks, are no longer integrated into our cities. But vacant sites and vacancies produce (valuable) contrasts, and the pandemic has triggered conditions to which urban space and its users first have to get used to again and to which they first have to react again. Now opportunities arise for pioneers and interim uses.
Small players and pioneers find room in the niches of the city: vacant lands are a field of opportunity.

Philippe Cabane 07/2020

We can now ask ourselves: How do we bring contrasts back into the cities? Which spaces do I make available for which target groups and actors? Which people do I need? And: If our cities become too "mediocre", too beautiful, will they lose their ability to react flexibly to pressure or extreme conditions? Philippe Cabane takes up these issues and reflects on them using concrete examples and hypotheses.
Philippe Cabane is an urban sociologist. He has worked as an editor at TechOne and taught at ETH Zurich. Since 2003 he is co-founder of Cabane Partner – Urban Strategies and Developments based in Basel. Cabane Partners supports landowners, cities and municipalities in the conceptualization, development and monitoring of urban development processes. Their credo is that sustainable development is essentially based on the commitment of the investors, real estate developers and users that are on-site.